They can't work, they can't claim benefits, they have nowhere to live. And their only means of survival is one £10 food voucher a week. Four failed asylum seekers tell their desperate stories
By Amelia Gentleman
The Guardian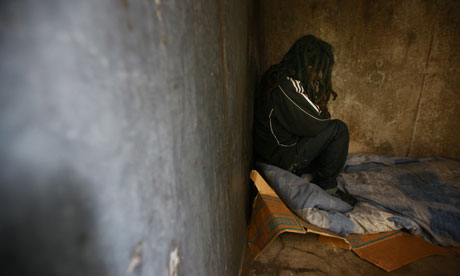 Since this era of financial austerity began, newspapers and magazines have hurried to publish advice on how to get by on a straitened budget. So here is one to beat all others. Today we offer a guide to surviving on under £10 a week. Without a roof over your head! Without a bed to lie on! With no support from family or friends!
It's quite possible, and here's how. These helpful tips come from four failed asylum seekers in Birmingham, who remain in this country, preparing to appeal the Home Office decision, sleeping meanwhile in hedges, doorways, old garages and staircases.
Haile, 32 Ethiopia
These attitudes towards asylum seekers are on display among a group of 40 or so homeless people sheltering from the rain on the ground floor of a multi-storey car park in the city centre, waiting for soup and sandwiches to be distributed by volunteers from a Baptist church.
One tall, white man in his 40s is expressing loud anger about the decline of the country. A few years ago, he remarks, there would have been no foreigners queueing up at these soup kitchens. "It was just the English," he laments, adding that the outsiders should be sent home. "If they try to come back, their passports should be taken away and they should be sent to prison."
Haile, who has been living homeless in central Birmingham for five years, since being released from an immigration detention centre, does not respond. "He's always like that. He says, 'English first for food.' I don't pay any attention to him. He drinks," Haile says. On the whole, he avoids telling people about his background. "If they knew I was an asylum seeker," he says, gesturing to the group, made up mainly of local drug addicts, alcoholics and the mentally ill, "and that I don't have papers to be in this country, I think I would be dead now. I don't make friendships with anyone; I don't know who is good or bad."
He lives alone, in conditions similar to those we see in news reports highlighting the plight of survivors whose lives have been torn up by faraway natural disasters before the major aid agencies have arrived – no electricity, no shelter from the elements, no sanitation, no water, no food, no mattress etc.
For over a year now, he has been living in a fenced-off doorway, at the back of an expensive hotel in the city centre, by the entrance to a now defunct car park. Local authorities have tried to block the way in, erecting a sheet of chipboard marked "Trespassers will be prosecuted" over the gap he used to squeeze through. Now he has to climb a 10ft metal fence with flattened prongs at the top, and slide down on the other side, where there is a space in the old doorway, covered from the rain.
It has been raining a lot, so it is difficult to get over the fence which (since he is a little short) is over twice his height. He puts his trainers on two black-painted railings, legs apart, and tries pull himself up. There is a slipping noise of wet rubber from his shoes and he fails to get over. He slips down the railings and tries again. It is painful to watch.
"This is my sleeping bag, my table, bed, blanket," he says through the fence, once he has made it to the other side. "My toilet," he says, pointing to a dank corner. "My clothes," he adds, nodding towards a heap of crumpled clothes and shoes. Piles of rubbish have been thrown through the railings by passersby – McDonald's yellow polystyrene containers, Sprite and Quavers packets, KFC and Red Bull, cigarette packets.
Haile says he has rat problems and fox problems, but is upbeat about the place he has found. The difficulty of getting in gives him a sense of security once he is inside.
"Sometimes I look and think it's like a prison, it's like a cage. But no one can throw stones at me here," he says. "This is my mansion. I'm a rich man. I own this hotel. If you want a room, I'll rent it to you cheap, cheap."
The strain of living in these conditions has taken a toll and Haile is clearly struggling to cope with life. Immigration letters in brown envelopes (delivered to the Red Cross and passed on to him) lie strewn in between the clothes. Taken by his parents from Ethiopia to Tanzania as a baby, he came here as a stowaway on a boat in 2000. Several asylum applications have been refused, and he is under instructions to return to Tanzania. But he is not clear whether he would be accepted there, since it is not his original home. He has no capacity to get himself there, and one attempt to deport him forcibly was cancelled at the last moment several years ago, since when he has been left to forage for survival in central Birmingham.
"My life is wasted. My parents died. I don't have parents. I don't have a country. I don't feel like a human any more," he says.
A large proportion of failed asylum seekers have some kind of mental health problem, charities say, the result of the stress through which they are living. Haile probably needs some kind of medical help, but in his limbo status it is hard to access. "They live on paracetamol," Nibizi says. Last year, Haile broke an index finger but, alarmed by the questions he was asked when he went to casualty, left the hospital without getting it treated; the bone has mended but the finger no longer bends, and juts out at an awkward angle.
Mimi, 33 Ethiopia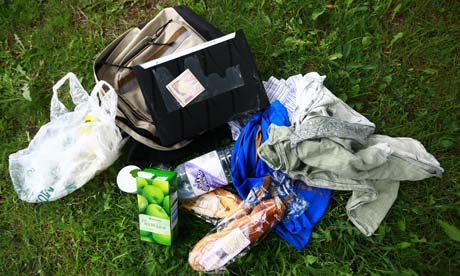 Sleeping on the streets, as Mimi puts it, is "not easy for ladies", so she has been sleeping on the floor of three Ethiopian families, two days here, two days there, for the last two months, since her asylum claim was refused. The families help her because they know she would otherwise be on the streets, but she can see she is a burden they cannot afford. Each morning she wakes up, dresses and gets ready to leave the house before she gets in the way, pausing at the doorway to see whether they will invite her to sleep another night.
"It's not easy living like this. It makes you go mad. It makes you want to kill yourself," she says.
She uses the £10 vouchers from the Red Cross to help contribute to the food supplies of the families that she visits; she has lost her own appetite, she says.
There are no night shelters that failed asylum seekers can go to in Birmingham (the Salvation Army hostel is not allowed to accept them), but the Red Cross has told her about a place in Coventry, 20 miles away, which offers emergency shelter to destitute migrants. She calls but there are only men staying at the centre, and the woman who runs the centre suggests it might be not be ideal for her. Mimi will continue sleeping on sofas.
The majority of destitute asylum seekers live in similar conditions, sharing rooms with other asylum seekers who are still receiving state support – housing and a basic weekly allowance – as their first asylum claim goes through. Because there are no accurate sources of data, it is impossible to know how many people are sleeping rough and how many on sofas.
"It is a hidden problem," says Penny Walker, who runs the night shelter in Coventry as part of a housing co-operative. "As a rule, they don't beg, they don't commit crime. These people try to remain invisible all day. They don't want to be loitering; they don't want anyone to see them and wonder whether they are about to rob them. There is this huge emptiness, huge uncertainty."
She regrets not being able to offer Mimi a space to sleep, but the living space at the housing co-operative she runs with fellow environmental and peace activists is already full. Between 14 and 16 destitute migrants arrive each night at 9pm, receive a hot meal and sleep together in one room, on camp beds lined up, side-by-side, about a foot between each bed. The atmosphere tonight is cheerful, but it isn't always. A few years ago, a failed asylum seeker gave up and hanged himself from a tree in the garden.
"They come here exhausted once they have run out of friends on whose floors they can sleep. Often they've been sleeping in friends' cars. They wouldn't come here unless they were desperate," says Walker.
"People think we should give asylum only to those who have a genuine need, not to those who have a so-called bogus claim," she says. "But what people don't understand is that the system is not fair. People don't flee their country unless they have a very good reason for doing so, and it is difficult to prove what happened to you unless you have scars from torture up your arms. The fact that you failed in your asylum claim does not mean that you are not a genuine asylum seeker."
Walker argues that their determination to remain in these conditions is a reflection of the seriousness of their difficulties at home.
"Who would choose this sort of life?" she asks. "Nobody."
Source: Guardian